Referrals are a way for publishers to create additional revenue for their online poker affiliate sites. If you are interested in promoting online poker, you probably know a number of active online poker players in your social networks. If they have not yet heard about Poker Affiliate Solutions there is a real chance for you to make some extra income simply by putting them in touch with PAS.
In addition to marketing poker to players, you may also have websites or materials that market to other poker webmasters. These are excellent places for you to discuss PAS and what it can do for poker marketers.
The benefit to you, besides the thanks you will get from your referrals, is commission from your friend's action. If we pay out $6,000 in a month to the Publishers you refer, you will get an additional $600 from PAS. Your commission of 10% of earnings will continue to grow as those you refer become more successful. We deposit this amount directly into your Poker Affiliate Solutions account.
Member Referrals
When one of your members refers another player to your rakeback site, you both get paid. You may view and edit the current referral levels in the Member Referrals screen.
Referral Rate displays the current payment rates for direct referrals. Direct referrals are simply those made when Player A refers new Player B to your site.
Referral Levels display the current payment rates for indirect referrals. Indirect referrals are those which are made by a referred member to other new players. For example, when Member A refers Member B, and then Member B refers Member C, Member C has been indirectly referred by Member A. Member B, however, would receive the referral rate for directly referring Member C.
Editing Rates
If you'd like to edit your existing rates, click on 'Edit Website Rates'. For direct referrals, you may choose either a tiered percentage or revenue share for the referral type. The only difference between the two is the ability to set up different thresholds for payouts (tiered) vs. a flat rate (revenue share). The default rate is a 2% reward on referrals that generate $0.00 or more in MGR. An example of a tiered percentage would be to pay out 2% at $0.00 – $100.00 MGR and 1% for $1000.01 and over. To add a tiered percentage, simply click on the green 'plus' button next to the existing rate to create a new tier.
Indirect referrals: For indirect referrals, you may create different levels of payments. For example, A refers B, who refers C. A in this case would be eligible for Level 1 payments. If C then referred D, A would receive Level 1 payments for C and Level 2 payments for D. B would receive Level 1 payments for D.
Creating a New Advertiser Rate
Sometimes you may want to create a special campaign tied to a specific advertiser or poker room. Here is where you can do that. Simply click on the 'New Custom Referral Rate' button, found on the main Referrals > Member Referrals page, to get started.
Creating a custom referral rate is much like setting custom referral rates for members. The only difference is that you are creating a rate that is specific to a given poker room. In the 'New Custom Referral' screen, select the site you want the new rate applied to. Then select the advertiser/poker room you want the rate applied to from the dropdown menu. You then create the rates for direct and indirect referrals as you would when editing your existing rates. When you are done, click on 'Save Member Referral'.
You will then be automatically returned to the Member Referrals screen. You should now see an icon with a green plus under the 'Controls' heading. Click on the icon to see your new custom referral rate.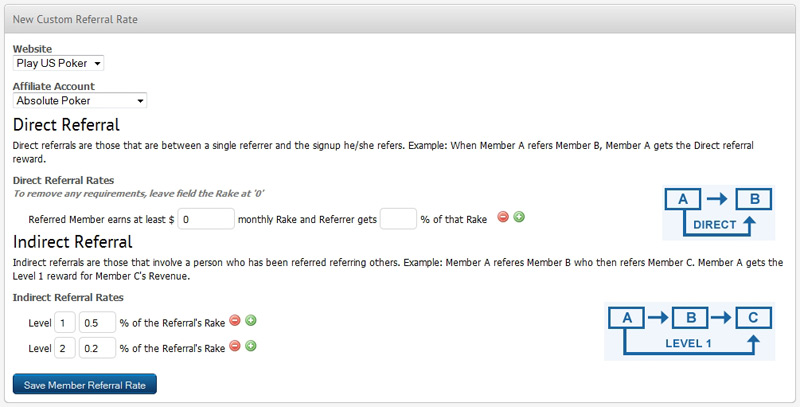 Publisher Referrals
Publisher referrals are referrals you have made to other people who sign up as publishers at PAS. The Publisher Referrals screen enables you to see a list of PAS publishers you have referred to PAS. The payment rate is set by PAS and cannot be edited.
The 'Make New Referrals' options provides you with a signup link and banners for your site which enable PAS to track new publisher signups to you.

http://pas.net/wp-content/uploads/sites/34/2016/12/pas-logo-e1505181545708.png
150
150
admin
http://pas.net/wp-content/uploads/sites/34/2017/08/pas-logo.png
admin
2014-12-18 16:46:07
2014-12-18 16:54:51
Understanding Referrals