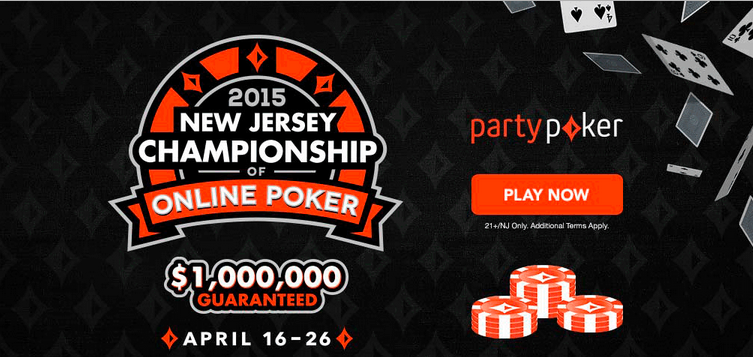 Party Poker has New Jersey buzzing once again with the 2015 New Jersey Championship of Online Poker. The NJCOP II tournament, with its $1 Million Guarantee, follows in the wake of the immensely successful Garden State Super Series II, which generated prize pools just under $1.5 Million in January.
The tournament runs Thursday, April 16 through Sunday, April 26 with two Player's Choice Events (NJCOP #1 and NJCOP #21). Buy-ins for the 35 events range from $50 to $1,000 and for the first time in New Jersey online poker history, players can play the tournament from their mobile devices through the Party Poker mobile app. The tournament action runs every day for almost two weeks and peaks on the final day with seven tournaments, including the $200 buy-in NJCOP #30 Main Event with a $150,000 guarantee.
The tournament coincides with the Borgata Spring Poker Open and the WPT® World Championship giving players traveling to New Jersey for these events the opportunity to also take Party Poker NJ Online for a test drive.
Don't miss out on this exciting event! If you're not playing Party Poker NJ, sign up today.
NJCIP II Schedule 
| | | | |
| --- | --- | --- | --- |
| Date | Time (EST) | Buy-In | Event |
| Thursday, April 16 | 6:00 pm | $91 + $9 | NJCOP #1 – $20,000 GTD NLH Freezeout – 9 Max – Player's Choice |
| Thursday, April 16 | 7:00 pm | $138 + $12 | NJCOP #2 – $10,000 GTD PLO8 6max |
| Friday, April 17 | 6:00 pm | $91 + $9 | NJCOP #3 – $20,000 GTD NLH 6max |
| Friday, April 17 | 7:00 pm | $138 + $12 | NJCOP #4 – $10,000 GTD FLH |
| Saturday, April 18 | 3:00 pm | $185 + $15 | NJCOP #5 – $25,000 GTD NLH |
| Saturday, April 18 | 5:00 pm | $45 + $5 | NJCOP #6 – $25,000 GTD NLH Rebuy |
| Saturday, April 18 | 6:00 pm | $72.50 + $7.50 + $20 | NJCOP #7 – $20,000 GTD NLH Bounty |
| Saturday, April 18 | 7:00 pm | $45 + $5 | NJCOP #8 – $15,000 GTD PLO Rebuy |
| Sunday, April 19 | 3:00 pm | $91 + $9 | NJCOP #9 – $30,000 GTD NLH Deepstack |
| Sunday, April 19 | 5:00 pm | $185 + $15 | NJCOP #10 – $100,000 GTD NLH |
| Sunday, April 19 | 5:00 pm | $950 + $50 | NJCOP #11 – $50,000 GTD NLH Highroller |
| Sunday, April 19 | 6:00 pm | $91 + $9 | NJCOP #12 – $25,000 GTD NLH |
| Sunday, April 19 | 7:00 pm | $465 + $35 | NJCOP #13 – $50,000 GTD NLH 6max Highroller |
| Sunday, April 19 | 9:30 pm | $185 + $15 | NJCOP #14 – $20,000 GTD NLH Turbo Last Chance |
| Monday, April 20 | 6:00 pm | $72.50 +  $7.50 + $20 | NJCOP #15 – $20,000 GTD NLH Bounty |
| Monday, April 20 | 7:00 pm | $185 + $15 | NJCOP #16 – $40,000 GTD NLH |
| Tuesday, April 21 | 6:00 pm | $91 + $9 | NJCOP #17 – $10,000 GTD NLH Speed Down |
| Tuesday, April 21 | 7:00 pm | $45 + $5 | NJCOP #18 – $25,000 GTD NLH Rebuy |
| Wednesday, April 22 | 6:00 pm | $91 + $9 | NJCOP #19 – $20,000 GTD NLH |
| Wednesday, April 22 | 7:00 pm | $45 + $5 | NJCOP #20 – $10,000 GTD PLO8 Rebuy |
| Thursday, April 23 | 6:00 pm | $91 + $9 | NJCOP #21 – $20,000 GTD NLH 6 Max Double Chance (1 X Rebuy Only) – Player's Choice |
| Thursday, April 23 | 7:00 pm | $138 + $12 | NJCOP #22 – $10,000 GTD PLO 6max |
| Friday, April 24 | 6:00 pm | $91 + $9 | NJCOP #23 – $20,000 GTD NLH |
| Friday, April 24 | 7:00 pm | $138 + $12 | NJCOP #24 – $10,000 GTD 7Stud |
| Saturday, April 25 | 3:00 pm | $45 + $5 | NJCOP #25 – $10,000 GTD NLH |
| Saturday, April 25 | 5:00 pm | $45 + $5 | NJCOP #26 – $10,000 GTD PLO Rebuy |
| Saturday, April 25 | 6:00 pm | $48 + $4 + $48 | NJCOP #27 – $10,000 GTD NLH Super Bounty |
| Saturday, April 25 | 7:00 pm | $91 + $9 | NJCOP #28 – $20,000 GTD NLH 6max |
| Sunday, April 26 | 3:00 pm | $45 + $5 | NJCOP #29 – $10,000 GTD NLH Deepstack |
| Sunday, April 26 | 5:00 pm | $185 + $15 | NJCOP #30 – $150,000 GTD NLH Main Event |
| Sunday, April 26 | 5:00 pm | $950 + $50 | NJCOP #31 – $75,000 GTD NLH Slow Highroller |
| Sunday, April 26 | 6:00 pm | $91 + $9 | NJCOP #32 – $30,000 GTD NLH |
| Sunday, April 26 | 7:00 pm | $240 + $20 + $240 | NJCOP #33 – $50,000 GTD NLH Super Bounty Highroller |
| Sunday, April 26 | 7:30 pm | $93 + $7 | NJCOP #34 – $10,000 GTD NLH Heads Up |
| Sunday, April 26 | 9:30 pm | $185 + $15 | NJCOP #35 – $20,000 GTD NLH Turbo Last Chance |
http://pas.net/wp-content/uploads/sites/34/2016/12/pas-logo-e1505181545708.png
150
150
Heather Brama
http://pas.net/wp-content/uploads/sites/34/2017/08/pas-logo.png
Heather Brama
2015-04-08 14:49:31
2015-08-19 18:49:40
NJCOP Returns with $1 Million GT April 16-26