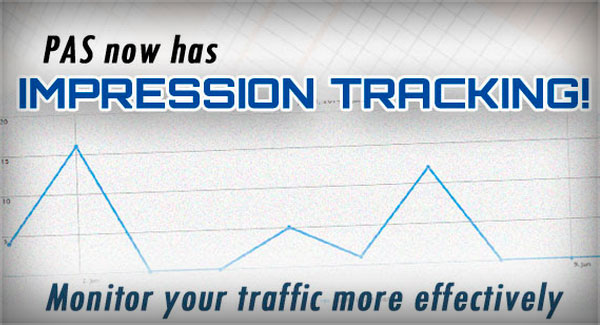 If content is King, data very well might be Queen. Using data to analyze the performance on your marketing efforts is crucial in today's landscape to give you a clearer picture of the "who, what, when, where, why and how" of how your offers and marketing websites are performing.
Without this information, you might be flying blind.
In a new effort to give you more of the marketing tools you need to be successful in your online gaming affiliate business, we are pleased to announce the integration of Impression Tracking into the PAS admin.
Impression Tracking is very important to online marketers to get a feel for how many times links or banners are being viewed by your users and determine the effectiveness of your marketing campaigns.
This is just one of the first of many features we plan to launch over the next few months that should give you a more comprehensive picture of how your campaigns are doing and allow you to more quickly react to the data that you are given.
Activating PAS Impression Tracking – Grab your New Links
Note: This information applies to PAS publishers using campaign links on self-hosted websites. More info on PAS hosted websites will be coming soon.

Getting set up with Impression Tracking on PAS is actually quite easy. Essentially, you will just need to grab new code and post it on your websites. Here's how…
1) Log in to the PAS admin from here. If you need a PAS account, you will need to sign-up.
2) Find your Revenue Share or CPA offers and "View Link" of the offers you want Impression Tracking for.


3) Viewing the link will bring up a modal and a bunch of code. Copy and paste the code wherever you are promoting the offers and you are ready to go.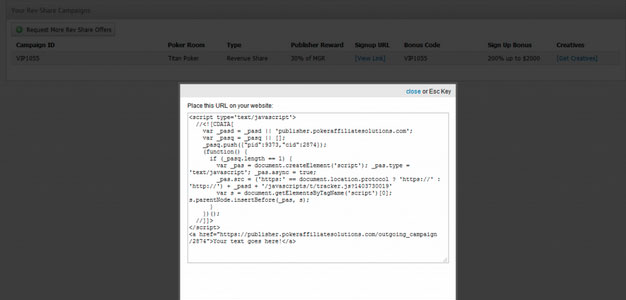 If you do not switch your links your players will still track to the campaign offer but will not be set up for Impression Tracking. All new campaign (offer) links requested since June 1st are automatically set up for Impression Tracking.
Viewing Impression Stats
Once your links are up and have had some time to get some views, you will want to check out how they are performing. To view Impression stats, go under the Stats tab, where you will find Impression Stats.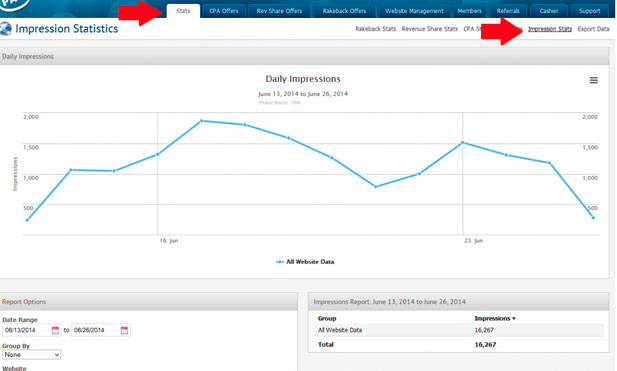 You will be able to filter and group your stats by a variety of variables including date, campaign, creative, poker room, website and more. Using this data alongside Clicks and Revenue will optimize your marketing
Craig Klinski
http://pas.net/wp-content/uploads/sites/34/2017/08/pas-logo.png
Craig Klinski
2014-06-26 17:53:33
2015-08-19 18:41:36
Impression Tracking Now Available on PAS