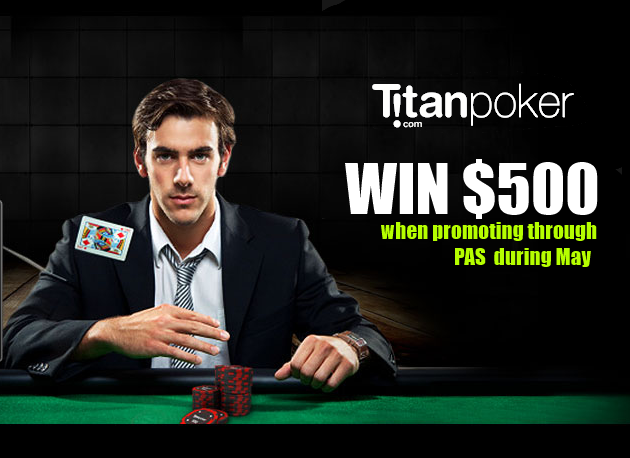 You read that right! PAS is giving one motivated Titan Poker publisher $500 for promoting this iPoker2 brand during the month of May.
And earning your $500 is easier than you think.
How To Qualify For Titan $500 Promo
To qualify for this prize, simply be the PAS publisher who shows the most improvement in MGR from April to May. Because most affiliate affiliates assume they don't have a chance to win, qualifying is MUCH is easier than you think.
Remember, you simply need to show the most improvement from last month. If you are a new affiliate and generate $1 and no other new affiliates participate and existing affiliates don't improvement – YOU WIN!
How To Qualify For Titan $500 Promo
There are some excellent reasons for promoting Titan Poker including a 200% up to $2,000, bottomless VIP program and PAS exclusive promotion called Gold Bars, which acts like a Rake Chase with guaranteed prizes.
All these reasons add up to a great opportunity for you to earn some extra cash affiliating in May. Get started today by requesting your Titan Poker campaign.

Craig Klinski
http://pas.net/wp-content/uploads/sites/34/2017/08/pas-logo.png
Craig Klinski
2014-05-01 18:08:50
2014-05-01 18:08:50
$500 For Promoting Titan Poker